The 25 best VR games for PC, consoles and mobile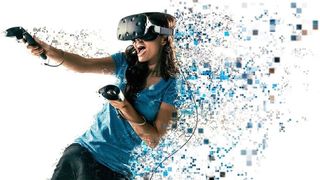 A whole new way to game
Update: We've had a chance to try some recent VR releases including Arizona Sunshine and Rick and Morty: Virtual Rick-ality, which have easily earned their places on our list.  
Picking the best VR games at the moment is a challenge. While there's a modest selection of great ones to choose from on , and , the catalogs on these platforms are comprised of both games specifically authored for VR – like Eve: Valkyrie – and ports in the vein of Resident Evil 7. 
Even still, many of the games being made with VR in mind are crudely designed cash-grabs, with their developers hoping to make a quick buck off the new format. Likewise, a lot of the games being ported over to VR from other platforms simply don't feel at home on a head-mounted display. For that reason, it's tough to find the best VR games amid all the shovelware.
Nevertheless, what we're focused on here is quality; more specifically, the best VR games for Oculus Rift, HTC Vive, PlayStation VR and mobile that you can enjoy right now.
Joe Osborne and Gabe Carey have also contributed to this article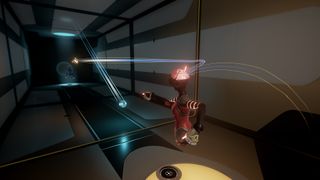 The VR game on our radar: Sparc
The sort of game that maybe should have come out alongside one of the headsets, Sparc is an athletic proof-of-concept for what VR can be. From CCP Games, the developer of Eve Online, Sparc is like a weird fusion between tennis and dodge ball where the goal is to hit the player standing opposite of you with a ball. It's a full-body gaming experience that makes use of the Oculus Rift Touch controllers or the Vive wands, if you're on HTC's hardware.
Being the physical "vsport" that it is, Sparc will make you sweat rest assured, but there's still a lot of thought required to strategize wins. That's especially the case in "pro mode," where the objective is to not only nail your opponent with the ball, but to do so without any shield for blocking. Instead, both you and your opponent will be forced to dodge the other player's throws without any means of a handicap.
Expected: TBA 2017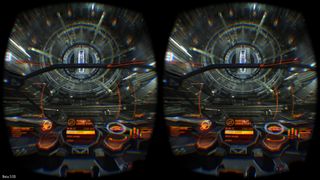 Elite: Dangerous (Multiplatform)
It may be over thirty years old, but the Elite franchise is still alive and kicking, thanks to creator David Braben's fight to reacquire the license.
Drawing elements from the first game – e.g. trading, exploring and engaging in combat within a massive, procedurally-generated universe – Elite: Dangerous is an Elite game for the 21st century crowd. It's even represented as such in its depictions of our galaxy in the future.
Oh, and did we mention the gameplay is massively-multiplayer? Navigating the next frontier has never felt so real and connected. Elite: Dangerous is a game best experienced online and in VR.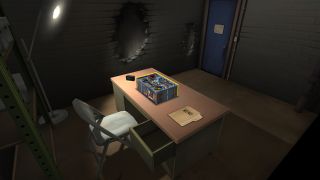 Keep Talking and Nobody Explodes (Multiplatform)
Assuming you know somebody generous enough to print the 23-page manual, Keep Talking and Nobody Explodes is the new Mario Party, at least in the sense that it will make your friends hate you. Developed by Steal Crate Games, Keep Talking and Nobody Explodes requires careful attention from a recommended 2 to 6 players. While one player works to defuse a bomb, the others have to provide clear instructions on how to do so.
Demanding some intense cooperation from your peers, Keep Talking and Nobody Explodes is a fun game with the right group of people, and it's even more enjoyable in VR using either a Samsung Gear VR or Oculus Rift headset. Keep in mind that while a gamepad is optional with the Gear VR version, the Oculus Rift version must be paired with a controller.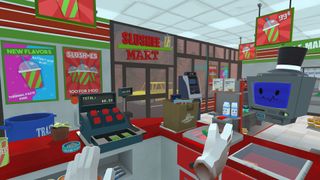 Job Simulator (Multiplatform)
In the year 2050, 21st century careers – like "chef" and "mechanic" – naturally, no longer exist, having been replaced years prior by the likes of programmers and the AI they create. Job Simulator takes it upon itself to transform the jobs of the modern day into museum exhibitions to be experienced as simulations by the player.
Of course, this means the museum, which doubles as a theme park, is operated by robots who can't quite recall things accurately. As a chef, for example, pizza is made by microwaving a slice of bread toppled with a block of cheese. In total, there are four jobs to select from: Office Worker, Gourmet Chef, Store Clerk and Auto Mechanic, each seasoned with a uniquely sardonic twist.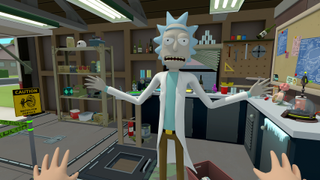 Rick and Morty Simulator: Virtual Rick-ality (Multiplatform)
Mechanically, Rick and Morty Simulator: Virtual Rick-ality is very similar to Owlchemy Labs' previous VR game, Job Simulator. 
But beyond the simple puzzle-come-adventure-game mechanics of combining objects in your environment to solve puzzles is the same razer-sharp wit that makes Job Simulator such an essential VR experience, and now it's even better thanks to the voice-acting chops of Rick and Morty star Justin Roiland. 
Whether Virtual Rick-ality is an essential experience will depend entirely on whether you're a fan of the show or not. If you've ever enjoyed the cartoon then you owe it to yourself to try the VR game, but if you've yet to give it a watch, or if you've done so and aren't a fan of its irreverent brand of humor, then the Rick and Morty Simulator might be one to miss.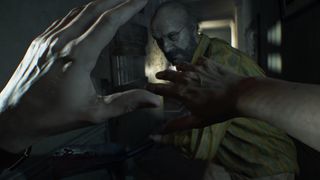 Resident Evil 7: Biohazard (PlayStation VR)
With most of even the best VR games being bite-sized, Resident Evil 7: Biohazard is a breath of fresh air, even if it's a simultaneously horrific one. Despite the ability to play it otherwise on PC, Xbox One and PS4 proper, this is the first installment in the Resident Evil series that you could say was designed with virtual reality in mind. That's because, unlike the entries before it, Resident Evil 7 is played using a first-person perspective.
Don't assume you can just run and gun your way through the game, however, as Capcom has taken Resident Evil back to its survival horror roots with Resident Evil 7. As such, you'll have to think tactically about how you manage to survive encounters with the game's freaky enemies. As Ethan Winters, a resident of Dulvey, Louisiana whose wife went missing three years prior, you'll be tasked with exploring a creaky old deserted house in an effort to find her.
The silver lining is that there's only one location throughout the game, so don't expect anything too chaotic beyond a generous helping of jump scares.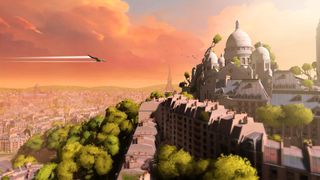 Eagle Flight (Multiplatform)
Remember that early launch game on the Nintendo 64 where you soared through the clouds and jumped through both literal and figurative hoops to complete objectives? Eagle Flight is like Pilotwings but you play as a minimalistically rendered eagle instead of an uncanny caricature of a what a person should look like.
Available for Oculus Rift, HTC Vive and PlayStation VR, Ubisoft's VR debut Eagle Flight gives players the chance to take to the skies and explore Paris like never before: 50 years after humanity has died out. Even better, pair up with a few buddies and you can engage in dog, err, bird fights in one of two multiplayer modes.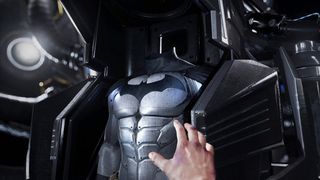 Batman: Arkham VR (Multiplatform)
Though the franchise may have already concluded on conventional platforms, Batman: Arkham VR is the follow-up to Arkham Knight virtually none of us were expecting. Not long after Rocksteady Studios revealed its third entry in the Batman Arkham universe would be its last, the developer announced this exclusive to PlayStation VR that would later make its way to all three headsets. 
Batman: Arkham VR is more of a self-contained detective story than a canonical sequel or prequel to the established Arkham mythos. You won't be knocking goons unconscious with a VR-reimagined version of Rocksteady's signature combat mechanics. However, what you can expect is not much more than a 90-minute, DLC-sized story mission at a fraction of the cost of a full-priced game.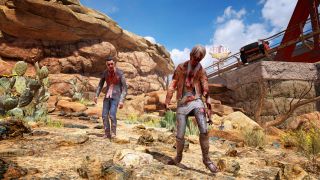 Arizona Sunshine (Multiplatform)
Lengthy VR experiences are pretty thin on the ground as it stands, and that's part of what makes Arizona Sunshine such an enjoyable experience. 
The game, which sees you exploring a zombie-infested Wild West, is a refreshingly lengthy experience that you can really sink your teeth into, which contrasts with the more arcade-like experiences offered by other games. 
Movement is handled by teleporting yourself around the environment which handily allows you to cover great distances without motion sickness, and you reload and change weapons by moving your weapon to your ammo belt. 
Out of any of the experiences we've played so far, Arizona Sunshine feels like what VR games might eventually become once developers have the time and money to craft full-length virtual reality experiences. 
But in the short term searching old mine shafts with a six-shooter in one hand and a blinking flashlight in the other is just plain cool, even if you'll have to keep your play sessions to half an hour at a time just to hold your nerve.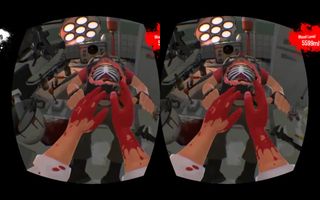 Surgeon Simulator 2013 (Multiplatform)
Like Alien Isolation, Surgeon Simulator 2013 is also centered around aliens. Instead of fleeing from them, though, you're chipping away at their insides. Similar to objectives in Job Simulator, Surgeon Simulator 2013 banks on your incompetence at performing advanced surgical procedures, such as heart and brain transplants, exacerbated only by the unique interface of a VR headset.
The game supports VR natively with Oculus Rift, though it requires a pair of Razer Hydras to attempt heart transplants. A separate version, entitled Surgeon Simulator VR: Meet the Medic, is available as a free Steam download for HTC Vive.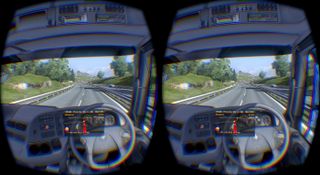 Euro Truck Simulator 2 (Multiplatform)
Ever wanted to deliver frozen chickens from Innsbruck to Bad Kissingen in an eighteen wheeler? The developers at SCS Software, who should probably be using their genius for the betterment of mankind, has perfectly replicated the art of being a truck driver, letting players fulfill their long-haul longings.
The VR experience has been updated to work well with the Oculus DK2 and lets you look all around your cab, as well as lean out of the window to peer behind you. You'll still crash your semi into the hard shoulder on a regular basis, but that's always your fault, never the game's.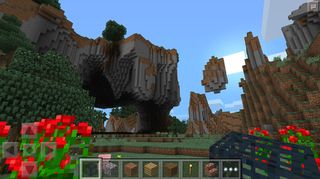 Minecraft VR (Multiplatform)
It's official: the world's most popular block-'em-up has finally arrived on VR. Minecraft Windows 10 Edition is now out on the Oculus Rift, but you won't need to splash out $599 / £499 / AU$649 (the cost of the Rift) for the experience. That's because it's also available on the Samsung Gear VR, with all of the Oculus version's features in tow. What's more, there's even a theater view in case it makes you sick just thinking about 360 degrees of lego brick terrain.
We're not sure what excites us most about exploring Minecraft in VR — legging it from creepers in the dead of night or burrowing into the landscape like goggle-wearing, pickaxe-wielding mole. A bit of both, probably.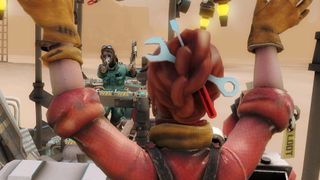 Hover Junkers (Multiplatform)
Hover Junkers started revving our VR engines when its first gameplay videos surfaced a couple of years ago. Its story makes little sense: Earth has nearly run out of water, so naturally everybody is pelting it around on crudely made hover barges firing rounds into each others' heads. We'll forgive that, though, as Junkers' gameplay is manic multiplayer action – and great fun to boot.
Waving around the two Vive wands and your headset to look and move around, you have to shoot the enemy while taking cover on your barge to avoid incoming fire. The sheer freedom of movement makes the game very different to non-VR shooters – you can troll people by flipping the bird and even shoot yourself in the head, should you wish to. That's the videogame moment we've all been waiting for, right?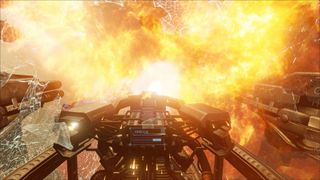 Eve: Valkyrie (Multiplatform)
Yes, Eve: Valkyrie will make you feel at least a little bit sick. But isn't any epic gaming experience worth a bit of pain? What started out as a spectacular tech demo for the Icelandic developers of Eve: Online has evolved into a fast, squad-based dogfighting simulator set in deep space.
That focus on combat allows the game to be much less realistic and more visceral than its competitors – and it's more arcadey as a result. It may not be able to deliver long-term thrills, but if you're looking to be dazzled by what the Oculus Rift has to offer at this early stage, look no further than Eve: Valkyrie.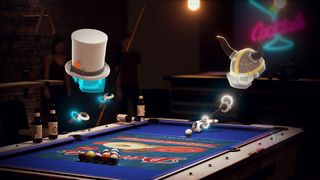 Pool Nation VR (HTC Vive exclusive)
Ever wanted to play pool with your friends without leaving the house to go to a bar?  With Pool Nation VR, nothing about the billiards experience is compromised – yes, even beer-chugging remains intact. At long last, the HTC Vive proves you don't need a gamepad to play pool.
So get ready to throw barstools, chairs and empty beer bottles at the wall when you lose because Pool Nation VR is the most comical and somehow realistic depiction of everyone's favorite tabletop sport. And, hey, it's not just pool you get to experience – developer Cherry Pop Games gives you the whole bar. Yes, you can even go for a few rounds of darts if you're so inclined.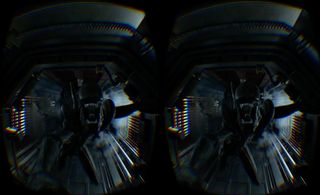 Alien Isolation (Oculus Rift exclusive)
Creative Assembly's masterful conversion of the Alien movie into a survival game was an unexpected success of last year. It allows players to take on the role of Ripley's daughter, attempting to survive another xenomorph event and, in turn, discover what happened to her mother.
The long-promised Oculus support wasn't released with the game, but it does exist in the game's code and has been reimplemented by modders. It makes for an utterly terrifying and hardcore experience, with players trying to stealth their way through the grimpunk space station, but it's mostly short-lived due to the alien's efficiency.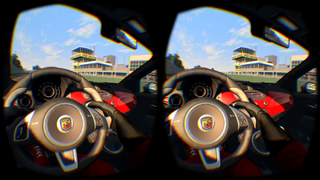 Assetto Corsa (Oculus Rift exclusive)
I've never really been a petrolhead – though I do know that red ones go faster – so I can't comment on how good a game Assetto Corsa is.
Suffice to say that my Petrolhead friends say it's one of the best car games out there, and the reviews agree. The key point is its moddability, which has allowed gamers to add all sorts of fancy new cars and tracks onto its superb driving system.
It supports Oculus natively and, like Elite, it makes perfect sense to be able to look around when racing, whether rallying or in an F1.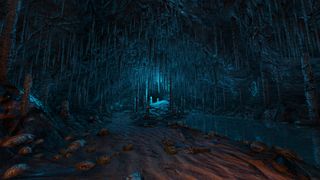 Dear Esther (Oculus Rift exclusive)
VR is wonderful at providing a sense of presence in a world – but not so good, as yet, at interacting with it. Which is perfect for 'walking simulators' like this.
Dear Esther is an exploration game, where you walk all over a remote Scottish island, plumbing its depths and heights, as your character whinges about his life. It may sound like an art-house adaption of a J.G. Ballard novel, but the game is utterly beautiful to wander.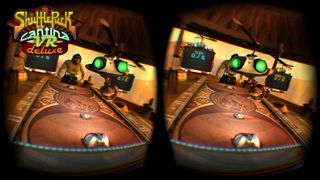 Shufflepuck Cantina Deluxe VR (Oculus Rift exclusive)
The unofficial sequel to 1989's Shufflepuck Cafe takes the physical game of Shufflepuck (AKA Air Hockey) to the furthest possible point.
Shufflepuck Cantina takes place in an interstellar casino, where you play against a charismatic range of aliens and robots with a huge array of special moves on a range of bizarre tables.
The casino is just charming to wander, packed with unearthly sights and detail, and fun challengers to natter to. Warning: you'll need to shut your eyes for the control-free intro, as it's utterly nausea-inducing.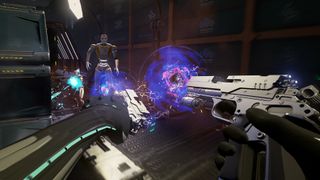 Raw Data (HTC Vive exclusive)
As far as VR showcases go, it doesn't get much simpler than Raw Data, a first-person action game that puts you up against waves of enemies in a controlled environment. Don't expect any overtly complex RPG elements added to the mix, however, as Raw Data prioritizes refined combat mechanics and digestible controls over gameplay variety. 
Raw Data itself doesn't consist of much more than choosing a hero, whether Bishop, Saija or Boss, and going in guns (or swords) blazing against hordes of challenging enemies. It only gets more difficult when you go online with a friend, with communication limited to body language and simulated eye contact. There's so much attention to detail in Raw Data that picking up and loading your gun is a task in and of itself.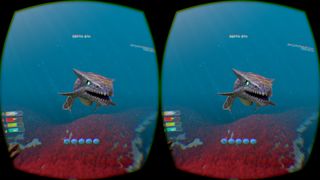 Subnautica (Oculus Rift exclusive)
Subnautica looks like it should be a simple diving game – but then you realise you don't recognise any of the 'fish'… or the sky or the sun.
It's actually a survival game on a distant ocean world, where you have to craft equipment, pilot submarines, and terraform the aquatic undersea for humankind – whilst surviving hostile wildlife, volcanoes, and aircraft-sized jellyfish. It's still in Early Access, so the Oculus Rift support is limited but effective.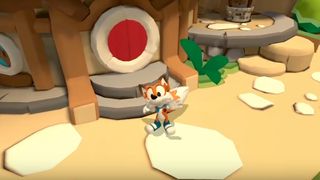 Lucky's Tale (Oculus Rift exclusive)
Lucky's Tale is one of two games (the other being multiplayer dogfighting shooter EVE: Valkyrie) being bundled with the Oculus Rift, and it's an intriguing little platformer. Think Mario 64 spliced with Crash Bandicoot, viewed with a third-person camera angle that you can manipulate by moving your head, and you'd be halfway there.
The VR element lets you peek at more of the level as you go along, which sounds gimmicky but actually introduces an exploration element as you tilt your head to reveal secrets in the level. It may not blow you away like other VR games will, but Lucky's Tale proves that VR can breathe new life into old, ostensibly dead genres.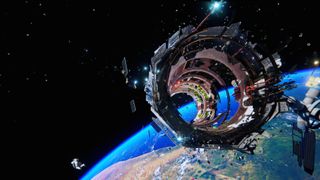 ADR1FT (Oculus Rift exclusive)
ADR1FT is the closest thing we'll ever get to a video game adaption of the movie Gravity. How it works is simple, albeit thoroughly engaging and original. In a first-person view, you'll be tasked with navigating a zero gravity setting with an oxygen limit that's realistic enough to keep you from taking off and exploring too far.
Like an underwater level of a Sonic game set in space, you'll need to survive on as little oxygen as possible without letting your character die. To make matters even more challenging, you're simultaneously tasked with completing a series of puzzles throughout five different areas all while listening to a soundtrack that was composed by developer Adam Orth and the band Weezer. (Because why not?)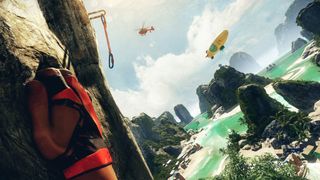 The Climb (Oculus Rift exclusive)
Not to be confused with the Miley Cyrus hit single, The Climb comes from Crytek, a developer widely known for making your graphics card sweat (see: 'But Can It Run Crysis?' meme). The Climb is no exception. Beautifully rendered scenery makes extreme hiking less of a chore in a game that's basically Uncharted without any of the combat. And that sounds rad.
If you're looking for the game to showcase VR to your distant relatives at a family event, don't exempt The Climb from your considerations.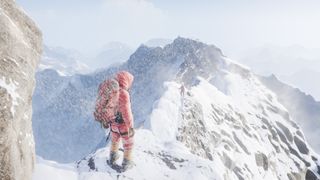 Everest VR (HTC Vive exclusive)
Think you have what it takes to climb Mount Everest? Everest VR might cause you to rethink your confidence. Like The Climb, Everest VR is a literal climbing simulator. Only this time, you're pushed right in the middle of a mountain cold enough to freeze off your limbs.
Sure, Everest VR can't emulate the weather conditions over an HTC Vive, but what it does well is bringing a fierce reality to the forefront of a headset for the first time ever. Like the antithesis to a certain 1999 track by Santana featuring Rob Thomas of Matchbox Twenty, man, it's a cold one in Everest VR. Yet, at the same time, it's a suspenseful and emotional one.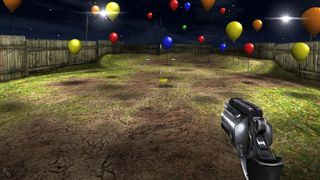 Shooting Showdown 2 (Gear VR exclusive)
Shooting Showdown 2 reimagines the first-person shooter concept for VR. You aim by tilting your head to move a crosshair in the middle of the screen, hitting a button on a Bluetooth controller to take out objects strewn across the level. They can be anything from shooting range targets to a robot carrying a bucket or traffic lights that require you to shoot the green light.
Regarded as one of the best games for the Samsung Gear VR, its head-to-head mode pits you against human opponents to see who can rack up the highest score.
Published at Tue, 09 May 2017 16:25:00 +0000